Syndicated by The Wrap Shop Co, Memphis, Tennessee
Looking to bring more life into your space? Wallpaper is a great way to achieve a gorgeous look; whether it's a one-of-a-kind mural, or a common pattern you want to extend throughout your space. When it comes to wall coverings, wallpaper provides many benefits something like vinyl wall wrap many not. That said, within the wallpaper category are many different types of wallpapers. Here we will discus when to use paste back wallpaper.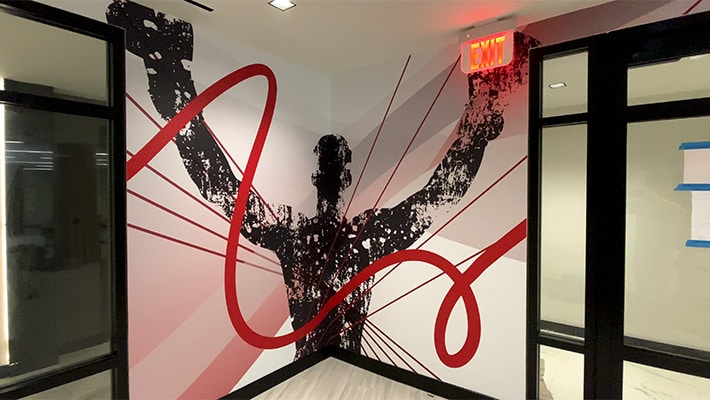 First, What Exactly is Paste Back Wallpaper?
Past back wall paper is, quite literally, when you apply paste to the backside of non-pasted wallpaper. Then—with the paste on the paper—you stick your wallpaper to the wall. This is different than adhesive backed wallpaper which is applied almost like a sticker. It also differs from pre-pasted wallpaper because it doesn't need to be soaked in water and then applied after the paste is 'activated'.
How to Install Paste Back Wallpaper
The process to install paste back wallpaper is fairly straightforward. While the steps sound simple, don't let that fool you. Installing any type of wall covering—especially wallpaper—is an unforgiving and difficult process to master.
Measure, design, and print the wallpaper itself. Plot and cut wallpaper appropriately. If purchasing a pre-made; measure your walls and buy accordingly.
Clean the installation area thoroughly and let dry. Clean areas mean minimal contaminants.
Unroll your wallpaper on installation day and apply a healthy layer of paste to the backside or "application side" of the non-pasted wallpaper.
Carefully move your wallpaper to the wall where it will be installed. You have some time to position it once it is on the wall, but move fast and efficiently.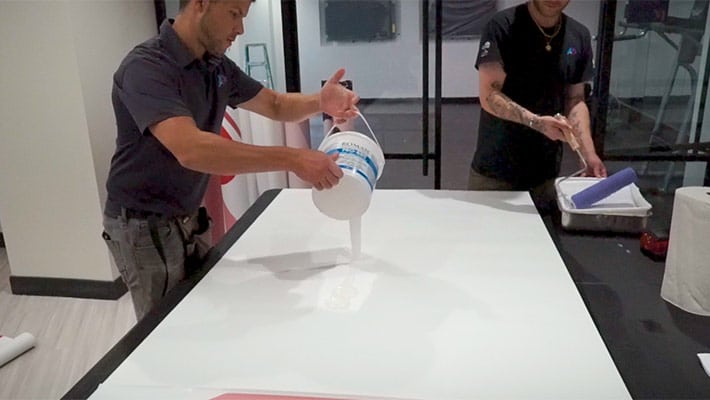 The Pros and Cons to Paste Back Wallpaper
Like all building materials, paste back wallpaper has a set of pros and cons. We will list those out here now in order to help better set the stage for when this type of wallpaper will yield the best finished product.
The Pros of Paste Back Wallpaper
During installation, it can slide around to get the perfect alignment.
Wallpaper is a thicker material, and can hide wall imperfections.
Can ensure all edges and corners get a proper amount of paste.
Less costly accidents when compared to pre-pasted wallpaper.
Can be custom printed to best suit your design requirements.
Less mess when compared to pre-pasted wallpaper.
Paste can fill in any imperfections in the wall.
It is quite permanent, so won't easily peel.
The Cons of Paste Back Wallpaper
Using too much or too little paste can affect installation quality.
It is quite permanent, so removal isn't going to exactly be easy.
Takes some skill and experience to get the right consistency.
Tends to be more costly than other types of wallpaper.
Messier than adhesive-backed wallpaper.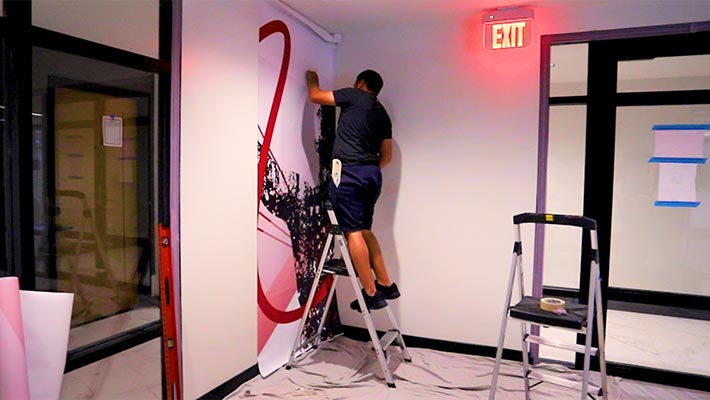 When to Use Paste Back Wallpaper
So with all this information, when then would be the best time to use a paste back wallpaper? As a wall covering company, we work with every type of wall covering available from wallpaper to wall murals. As such, our job is to help our customers find the best material for their installation.
When it comes to paste back wallpaper, one of the best uses is when a wall is in rough shape: dents, scratches, dings. This is because the paste can fill in those slight imperfections. In addition, the thickness of the wallpaper itself also helps to cover up those issues.
Another great time to consider paste back wallpaper is when you know you want a more permanent solution. Adhesive-back vinyl wall graphics are now lasting longer than ever, but they will never live up to the longevity of professional wallpaper.
Your Local Wallpaper Company
AP Graphics is your local wallpaper installer. If you ever find yourself search for wallpaper installers near me, then know that we are the right fit. We provide quality first installations of all types of wall coverings at a fair and honest price. Our customers commonly find that they simply need to come to us with an idea, and a set of problems, and we help work with them to find the best end product for the budget.
The post When to Use Paste Back Wallpaper appeared first on Vehicle Wrapping.
* This article was originally published here
The Wrap Shop Co is a car wrap shop in Memphis, Tennessee.
Find is on Google Maps: https://www.google.com/maps?cid=624519131304914146