Syndicated by The Wrap Shop Co, Memphis, Tennessee
Downtown Westminster, MD was bustling Friday afternoon during the kick-off of phase 1 of MAGIC's Autonomous Corridor Project. MAGIC, which stands for Mid-Atlantic Gigabit Innovation Collaboratory, is working to improve transportation in downtown Westminster, MD with this forward-thinking project.
To help ensure the project's success, many area businesses are donating their expertise, time, and efforts—AP Corp included!
The Autonomous Corridor Project
According to Kelly Schulz, secretary of Maryland Department of Commerce, the Autonomous Corridor Project will, "increase equity and expand opportunity for the people of Westminster and beyond." Kelly went on to elaborate, "This has the potential to create a more connected community, a more walkable community, and to spur economic growth." With all the strategically planned stops on this corridor, this project absolutely has this potential and then some!
Friday's Ribbon Cutting Event
As shown in the video above, the ribbon cutting event was attended by a long list of Carroll County's biggest names in technology. We saw drones, a library robot that helps folks find their books, FIRST (For Inspiration and Recognition of Science and Technology) and their remote-controlled robots, and the Olli autonomous vehicle built by Local Motors. It was a great showing for the City of Westminster!
The Autonomous Vehicle
An autonomous vehicle is a self-driving vehicle. Currently, the ones which could be used in this project are like a small bus. The main benefit of this size of vehicle is it will offer extreme versatility and agility within the Westminster, MD urban city center, neighborhoods, and campuses. Phase 2 of the project is when we will most likely learn more about the exact vehicle selected for use.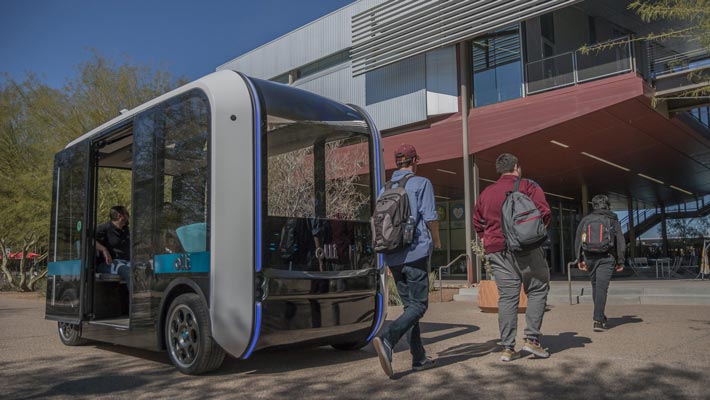 Autonomous Corridor Project Phase 1
Phase 1 of MAGIC's Autonomous Corridor Project is what could be informally dubbed as the 'mapping phase'. During this phase, MAGIC will work with Dynamic Dimensions Technologies (DDT), to scan the route most suitable for the Autonomous Corridor. The vehicle being used in phase 1 will be manually driven (by humans) to capture the route the autonomous vehicle will take.
As part of AP Corp's partnership with MAGIC, AP Corp will also help wrap the autonomous vehicles with a custom, e-fleet wrap to brand the new fleet.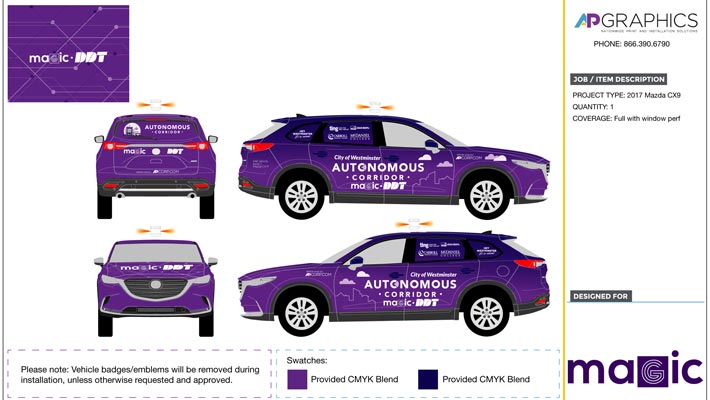 MAGIC Partners with AP Corp for their Fleet Branding and Fleet Wrap Installation
When asked if we could help with the Autonomous Corridor Project, AP Corp jumped at the opportunity. Tara Davis, AP Corp Creative Director stated, "The team at AP Corp absolutely loved being involved in such a forward-thinking event right in our backyard. Seeing the community's support for the Autonomous Corridor Project and talking to the other sponsors was so exciting!"
AP Corp is Your Local Fleet Wrapping Company
AP Corp is a Maryland fleet wrapping company located in Sykesville, MD. Specializing in fleet graphics and fleet branding, AP Corp was an ideal fit for helping with branding the vehicles used in the Autonomous Corridor Project. For more information on our Baltimore fleet wrapping services, get in touch with AP Corp today!
The post AP Corp Donates Vehicle Wrap to MAGIC's Autonomous Corridor Project in Westminster, MD appeared first on Vehicle Wrapping.
* This article was originally published here
The Wrap Shop Co is a car wrap shop in Memphis, Tennessee.
Find is on Google Maps: https://www.google.com/maps?cid=624519131304914146